HAWAI SAFAR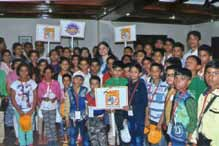 Hi friends, I am Om Deepak Shelar and today I am going to share my wonderful experience with you.
Few days ago my mother received a phone call from 'Lokmat Office'. It was to inform that I had been selected by the newspaper for a free airtrip to New Delhi. I couldn't believe my luck.
On 5 th of July 2016, I was honoured by my school Abhinav Education Society's English Medium School & Jr. College.On the same day, my parents, my sister Bhoomika, who is also in our school and I drove to my grandparent's house in Thane. On 7 th of July 2016, I woke up early and reached Santacruz Domestic Airport.At 8.15 a.m. my Indigo Airlines took off.In the plane I got a window seat and I also made many friends.Then that plane landed on New delhi Airport around 10.a.m.We left the airport and travelled by bus alongwith other students and reached Parliament House. We met many famous people like Maneka Gandhi member of Parliament and Sumitra Mahajan Speaker of Lok Sabha. We listened to her speech and then I asked her how she became a Lawyer and then the Speaker of the Lok Sabha.We saw Indira Gandhi's Museum. She was our Prime Minister for many years.We were served delicious food and cold drinks. We received many gifts from 'Lokmat'.
Before leaving from Parliament House I was photographed in a group with M.P. Maneka Gandhi and M.P. Sumitra Mahajan. We were now on our way back to New Delhi Airport. We visited some historical spots related to Mahatma Gandhi and Jawaharlal Nehru. We also saw the Rashtrapati Bhavan.Finally we reached New Delhi Airport. We boarded the plane headed to Mumbai. We reached Santacruz Airport at late night around 11 p.m.I was overjoyed to see my parents and sister eagerly waiting for me.
I was tired but very happy. I thank 'Lokmat'team for giving me a joyful experience that I shall never forget in my life.