Nutritious Sprouts Dosa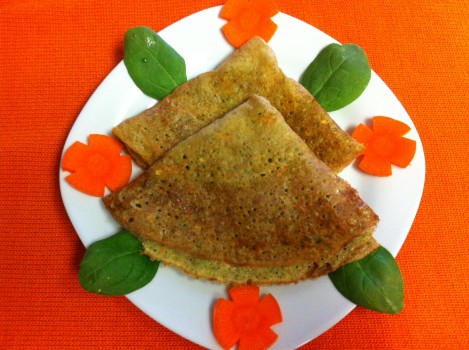 By Abhinav SchoolPreparation Time: 15-20 mins.
Serves: 4 people.
Ingredients
• Sprouted moong 3 cups
• Rice flour 1 cup
• Asafoetida a pinch
• Green chilies finely chopped 6
• Ginger grated 1 inch pieces
• Lemon juice 1 tablespoon
• Sugar 1 teaspoon
• Salt to taste
• Oil as required
Nutrition Info
Calories : 1291
Carbohydrates : 222.1
Protein : 58.8
Fats: 18.8
Method1. Grind the sprouted moong slightly coarsely without using too much water. Mix in rice flour. Add one and a half cups of water to make a batter of pouring consistency. Let it ferment for four hours.
2. Mix in asafoetida, green chillies, ginger, lemon juice, sugar and salt to taste. Heat an iron tawa till it becomes very hot. Sprinkle some water. When the water starts evaporating, wipe with a soft cloth. Lower heat.
3. Sprinkle a few drops of oil and spread it with a piece of onion or potato. Pour a ladle full of batter and spread it as thinly as possible.
4. Pour oil around the dosa and let it cook till it becomes crisp at the edges and turns golden brown. Fold and remove. Serve hot with chutney.
Anushka Vijay Choudhari (IX A)