Book Review : I Am Malala By Malala Yousafzai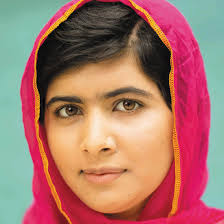 Book Review : I am Malala by Malala Yousafzai
This book is about 'The Girl who stood up for education and was shot by the Taliban' a Malala Yousafzai with Christina Lamb. Malala tells us about that life shattering moment in a riveting memoir. This is a book that should be read not only for its vivid drama but for its urgent message about the wrapped power of girls. The story begins with Malala's father Ziauddin Yousufzai, the son of an Imam (a preacher of Islam), who was instilled from boyhood with a deep love of learning and a unwavering sense of justice and a commitment to speak out in defense of both. So, when his first born turned out to be a bright, inquisitive daughter, Ziaddin's greatest ambition, which he achieved as a relatively young teacher, was to establish a school where children could be raised with a keen sense of their human potential. But he was also a poor man with high ambitions and not a cent to his name. Malala was born in 1997, as her father was struggling to open his school against a sea of troubles. By the time Malala was 10 she was surprisingly flourishing in school. Moulana Faziullah, a young extremist, who had once operated the pulleys at a river crossing, became known as the Rudis Mullah, a direct arm of the Taliban, installing a systematic rule of terror over the swat valley. Fazlallah announced the closing of girls' schools.
Ziauddin continued to rail at his country's Talibanization in government offices and although Malala learned to go to school with her books hidden under her shawl, she continued to study and eventually giving public speeches on behalf of education that her father would help write. By 12, she was writing a BBC blog about her experiences under the pen name Gul Makai. The Yousufzai made their way to Peshawar, where Malala did radio interviews and continued to speak out for girls education. An old child taking a bullet for a whole generation was the essential difference that we lost that girl. Malala was rushed to Peshawar, then Rawalpindi and finally to Birmingham, England where doctors reconstructed her damaged skull and knit back the shattered face. But her smile would never be quite the same. Malala's desperate parents as they awaited word of their child's condition- 'We are happy out daughter has survived'. Malala points out, because she had become the daughter of the nation.
– Aarti Rajabhau Tangsale
X (E)