THE TOUR THAT LEFT AN INDELIBLE MARK IN MY MIND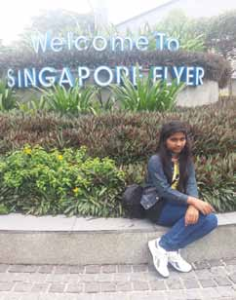 It was the most remarkable day of my life, when I got to know that I was going on a tour overseas. A student came to my class and told me that Ma'am was calling for me. I was a little nervous, because I didn't know why was she asking for me. She asked me whether I had my passport documentation in order and I was even more confused by her question. Seeing my puzzled expression she explained that I was to join a foreign tour organized for toppers of academic year 2014-15 on behalf of our school.
We were going to leave on 27th January 2016, but my adventure began that very day. For many of us it was the first time we were going abroad, so naturally we were very excited. Soon I received my passport and Visa and I was finally ready for the tour.
On 27th January 2016, we set off for our tour to Singapore. We reached the Chattrapati Shivaji International Airport, Mumbai by evening. Our flight took off at midnight and soon we reached Changi Airport, Singapore. From the airport we went to the hotel, Hotel Cultural where we were going to stay for the duration of the whole tour. The Hotel rooms and the room service were excellent.
In those five days we saw many beautiful places. The city was extremely clean and beautiful. The Science Center, Sentosa Island and Universal Studios had the best experiences, and the Jurong Bird Park gave us experience to actually see many rare and beautiful birds up close. Seeing the penguins was really a breathtaking experience. This tour was actually very special for me because I have seen these places on a TV and had hoped to visit someday, so this opportunity was like a dream coming true.
But the best thing thatI liked about the tour was that we didn't just see this beautiful and amazing place, but also learned many things from the experience. For me, it not only gave me the confidence to mingle with other people abroad but also made me a more responsible person. As I was with my teachers and friends, I confronted with many situations which gave me learning experiences.
Even today when I close my eyes, I can see Singapore. I am sincerely thankful to my school and Hon. Founder President Mr. Rajeevji Jagtap
Sir, Hon. Principal Mrs. Varsha Sharma Madam and many other teachers, who considered me capable enough to be bestowed with this great opportunity. In future, even if I may visit again, I will not be able to forget this first experience which my school gave me.
– Ruchika Vijay Bhambure, X B